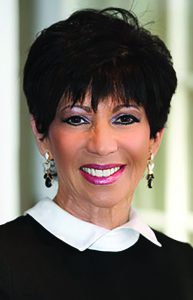 Martin Deposition Services in Malta, a court reporting agency in the Capital Region, is celebrating its 50th year serving the legal community throughout the state.
Martin Deposition Services was founded in 1968 by Donna Martin, a certified shorthand reporter and notary public who served as a senior reporter for the Unified Court System of New York and was the first female reporter in the 4th Judicial District.
The business, which started as an agency sending court reporters to lawyer's offices and court rooms, has expanded to include suites, where attorneys and businesses have the opportunity to rent nicely appointed suites for the purpose of holding depositions, legal video services, video conferencing, meeting room rentals and also avail themselves of virtual office solutions.
"I can't believe it's been 50 years but I am so proud of this business," said Martin. "I believe my success has been firstly due to my insistence that my reporters deliver the highest quality work. Secondly, my willingness to evolve and react quickly to opportunities.
"For example, when I saw the need for a neutral place for attorneys to hold depositions, I rented space and built out suites for them to hold their depositions and use our reporters.  When GlobalFoundries located to Malta and out of town companies were needing to do business with them on different levels, I began offering virtual office solutions which have been very successful. It is vital to be nimble in business, now more than ever."
James Hacker, partner at E. Stewart Jones Hacker Murphy said,"I have used Martin Deposition Services for the past 30 years. Donna and her team provide quality service and a superior product."
Victor Mazzotti, a partner at Martin, Harding Mazzotti, said his firm has been using Martin Deposition services for over 23 years. "They always do a great professional job taking our depositions."
The company also offers deposition suites, video conferencing, legal video services, meeting room rentals, virtual office solutions and certified tape transcriptions from court proceedings.
For more information visit www.martindepo.com.