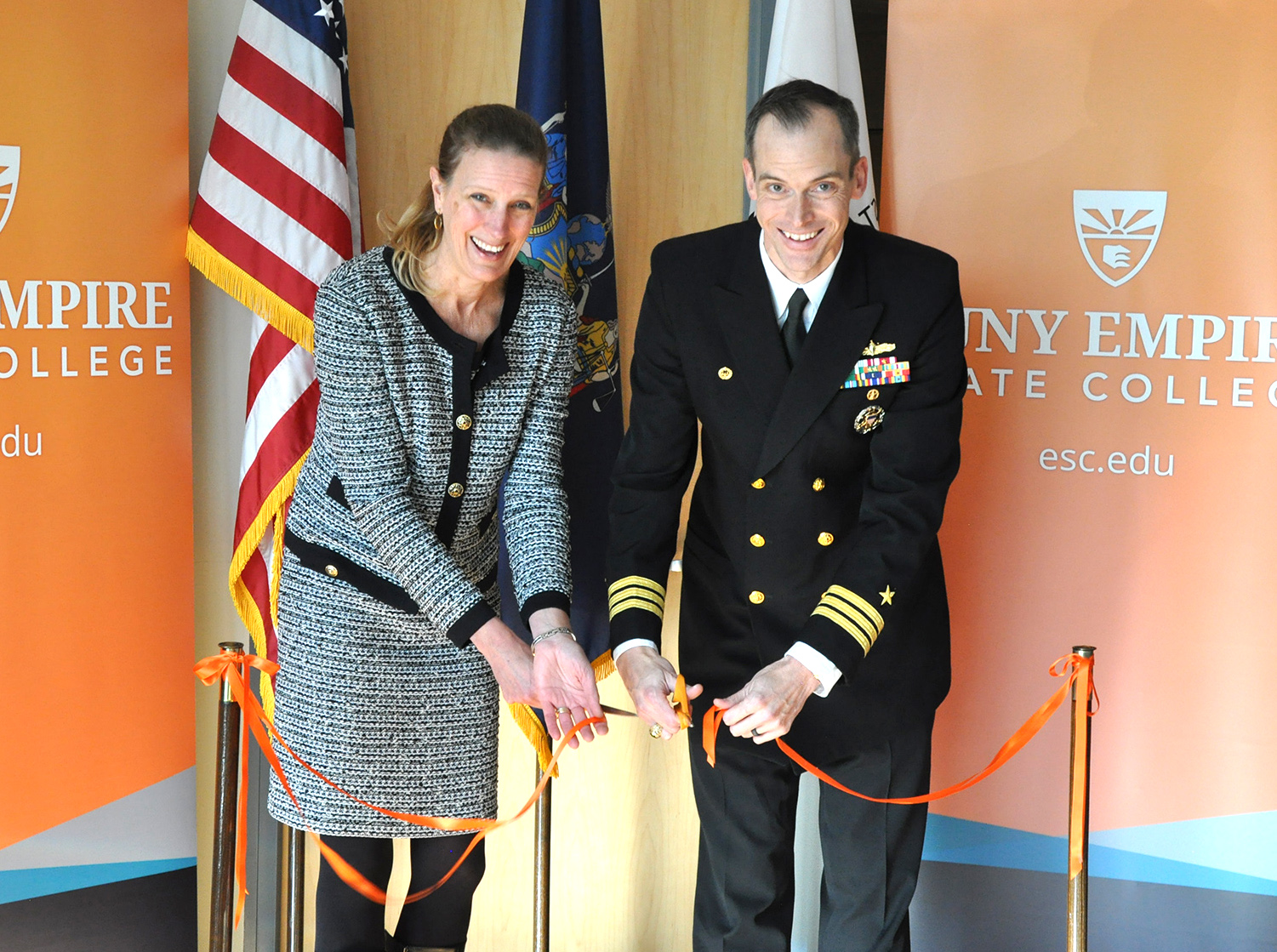 SUNY Empire State College's location at 113 West Ave., Saratoga Springs, has been designated as an official national testing center for The Defense Activity for Non-Traditional Education Support (DANTES) and DSST Standardized Exams.
U.S. Navy Commander Judd Krier, commanding officer of the Naval Nuclear Power Training Unit (NPTU) in Ballston Spa, and Merodie A. Hancock, president of SUNY Empire, cut a ceremonial ribbon to mark the occasion.
Krier said that staff at NTPU researched how to provide better opportunities for the sailors to take DANTES and DSST exams and contacted SUNY Empire State College's Office of Veteran and Military Education, which led to the college's designation as a national testing center.
SUNY Empire State College already accepts college credit for successful completion of DANTES and DSST Standardized Exams.
However, sailors stationed at NPTU had to travel outside the area to take these exams, which, Krier said, presents a significant challenge.
"I talk to so many sailors," said Krier. "When I ask them what their personal goals are, they talk about higher education. 'I want a degree.' 'I didn't have the money.' I didn't have the time.' 'I just wasn't mature enough and now I'm ready for higher education.' My sailors work demanding hours, a lot of rotating shift work and very unconventional hours. It is very tough for them to take traditional courses and sit through classes so many times a week. Centers like this are great. It's an extra opportunity for them to get those college credits."
Hancock said, "I am thrilled that we are hosting a national testing center. We know our military students know foreign languages, history, and so many other subjects, because it has been their passion and their life. Our testing center will allow them to get college credit for what they have learned while serving our nation. They can move on to completing their degree without having to take the time, or spend their tuition benefits."
Scheduled to begin operations mid-December, the center is available to all active-duty members of the military and veterans in addition to the 1,800 sailors stationed at NTPU.
In addition to standardized exams, SUNY Empire provides all undergraduate students with many opportunities to earn college credit for college-level learning acquire outside a traditional academic setting through prior learning assessment.
Empire State College, the nontraditional, open college of the SUNY system educates nearly 18,000 students worldwide at eight international sites, more than 30 locations across the state of New York, online, as well as face to face and through a blend of both, at the undergraduate and graduate levels.
The average age of an undergraduate student at the college is 35 and graduate students' average age is 40.
Most Empire State College students are working adults. Many are raising families and meeting civic commitments in the communities where they live, while studying part time.
In addition to awarding credit for prior college-level learning, the college pairs each undergraduate student with a faculty mentor who supports that student throughout his or her college career.
Working with their mentors, students design an individual degree program and engage in guided independent study and coursework on site, online or through a combination of both, which provides the flexibility for students to choose where, when and how to learn.
The college's more than 80,000 alumni are active in their communities as entrepreneurs, politicians, business professionals, artists, nonprofit agency employees, teachers, veterans and active military, union members and more.
The college was first established in 1971 by the SUNY Board of Trustees with the encouragement of the late Ernest L. Boyer, chancellor of the SUNY system from 1970 to 1977. Boyer also served as United States commissioner of education during the administration of President Jimmy Carter and then as president of the Carnegie Foundation for the Advancement of Teaching.
More information about the college is available at www.esc.edu.