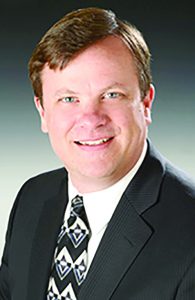 The Saratoga County Prosperity Partnership announced that Kevin M. Hedley, MS, CPA, PFS, founder and partner of Hedley & Co. Certified Public Accountants, will serve as its new board of directors chairman.
Other board officers are Brendan Chudy, director of the legal department at GlobalFoundries, as vice chairman; and Rita Cox, founder of Cox Marketing Solutions, secretary. Arthur Johnson, supervisor of the town of Wilton, will continue to serve as treasurer.
A private-sector business owner for nearly two decades in Clifton Park, Hedley has served on the Saratoga Partnership board since the agency was created in 2014. As chairman, he succeeds Jack Lawler, supervisor of the town of Waterford, who remains a board member.
In his new role, he will be working collaboratively with economic development groups throughout the county to build an environment to attract jobs, companies and investment, and enhancing the quality of life in Saratoga County.
"I am excited and energized by the opportunity to serve as chairman of the Saratoga County Prosperity Partnership, which is making great strides in implementing a long-term, sustainable strategy to drive economic growth," said Hedley. "Our commitment to ensuring Saratoga County achieves its full potential will include encouraging collaboration between multiple agencies so that we speak with one voice when it comes to the vital mission of economic development."
"Economic development is most effective when the public and private sectors work together. With private-sector leadership on our board and the vital support of the Saratoga County Board of Supervisors, we have created a winning combination that will accelerate and advance our mission," said Marty Vanags, president of the Saratoga County Prosperity Partnership. "We are thrilled to work closely with Kevin Hedley to execute our ambitious agenda, and appreciate the leadership of Jack Lawler, who will continue to be a valuable contributor on the board."
Lawler was the previous chairman.
A graduate of Siena College with a Bachelor's in business administration, and the University at Albany with a master's degree in taxation, Hedley has over 30 years of tax and accounting experience with individual, small- and mid-size businesses.
He is a frequent lecturer on the topics of taxation, business administration and management, teaching courses on individual income tax at University at Albany, business valuations at New York University, and corporation and partnership tax, family tax planning, and trust and estate taxation at Siena College.
Hedley is a member of the Saratoga Chamber of Commerce board of directors, an active volunteer and past board chair with American Red Cross, and has been involved in other charitable organizations.
"Kevin Hedley's leadership skills, success in the private sector, and passion for making Saratoga County a great place to live and work make him an outstanding choice to chair the Saratoga Partnership's board of directors," said Lawler. "I look forward to working with Kevin, the board, and Marty Vanags and his team in furthering this public-private collaboration to drive economic growth that will benefit residents and businesses in Saratoga County."
Members of the board of directors also include: Anita Daly, chairperson, Saratoga County Capital Resource Corp.; Penny Hill, associate dean, HVCC TEC-SMART; Edward Kinowski, Stillwater supervisor; Scott Ostrander, Milton supervisor; Charles Wait, chairman and CEO, Adirondack Trust Co.; David Wood, owner and operator, Eildon Tweed Farm; Rocco Ferraro, retired executive director, Capital District Regional Planning Commission; Joshua Spain, senior director of global engineering, Momentive Performance Materials; and Kevin Tollisen, Halfmoon supervisor.