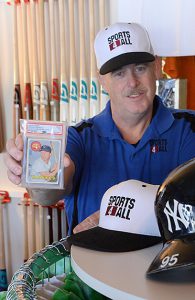 By Maureen Werther
Sports 4 All is a new sporting goods and memorabilia shop located at 78 Church St. in Saratoga Springs.
Its owner, John Vrana, has been in the business for more than 13 years and plans on growing his business in the region.
Originally from Collingswood, N.J., Vrana is a big in fan of thoroughbred racing and was a frequent vacationer in the Spa City for years before deciding to move here permanently about a year ago. He ran a similar business in New Jersey for more than a dozen years, with an inventory consisting of autographed items such as baseballs, batting helmets and bats, and other items that are favorites with sports fans.
The local store also offers silk-screening and embroidering, sports apparel and equipment.
Vrana said that he also buys, sells and trades sports memorabilia.