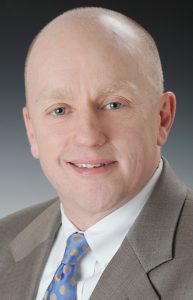 In late 2019, members of the Chamber of Southern Saratoga County (CSSC) voted overwhelmingly in favor of affiliation with the Capital Region Chamber, setting in motion the most far-reaching changes in the organization's 53-year history.
Ballston Spa National Bank President/CEO Chris Dowd was tapped to lead the CSSC board for 2020, helping direct the transition along with former CSSC President/CEO Pete Bardunias, who now serves as senior vice president, community advancement to Capital Region Chamber President/CEO Mark Eagan.
Dowd has been with BSNB since July of 2001. Starting as senior vice president of lending, he moved to the president/CEO role in August of 2004. He currently serves on the boards of BSNB, CEG, Independent Bankers Association of NYS, the CSSC/Capital Region Chamber, and the Saratoga Economic Development Corp. board of governors.
"It is an honor to be asked to lead the board of this organization into a new and very important relationship with the Regional Chamber," said Dowd. "The combination of these two organizations provides member businesses of southern Saratoga County and beyond with a vast array of new support resources while ensuring greater operational efficiency."
Over the past few years, the CSSC board of directors sought to better mirror the inter-county activities of a growing number of members, and to be a more effective advocate given the pace of legislative change taking place in Albany, Chamber officials said. Affiliating with the Capital Region Chamber was seen as the culmination of that effort.
The CSSC will continue to have separate board meetings and conduct local programming, while tapping into the Regional Chamber's greatly expanded capabilities. Dowd will govern alongside Lisa Avila, CEO of Kitware, who serves as secretary/treasurer, plus board members Matt Grattan of the University at Albany, Carmine DeCrescente III of DeCrescente Distributing Co., Willie Miranda of Miranda Real Estate/Insurance and Michael York of the Lofts at Saratoga Blvd.
York is the past president of the Malta Business and Professional Association, which is also assimilating into the CSSC as part of the organizational restructuring. The MBPA will re-emerge as a Malta-focused steering committee called the Malta Business Community Alliance. Businesses with Malta can attend a committee planning meeting at 7:30 p.m. Thursday, Feb. 27 at Bryant & Stratton College, 2452 Route 9, Malta.
Among other events, the annual CSSC awards dinner is planned for June 11 at the Hilton Garden Inn in Clifton Park.
Dowd said the Chamber promotes its members and communities in many local, regional and statewide publications. "We have always been a leader in connecting our members with each other, with the public and with new opportunities throughout the region, and our reach will only get broader as we continue the affiliation process."
The chamber staffs are combined, with three offices located in each of the affiliate chamber counties. The office at 58 Clifton Country Road in Clifton Park is home to the Community Advancement and Member Services departments.