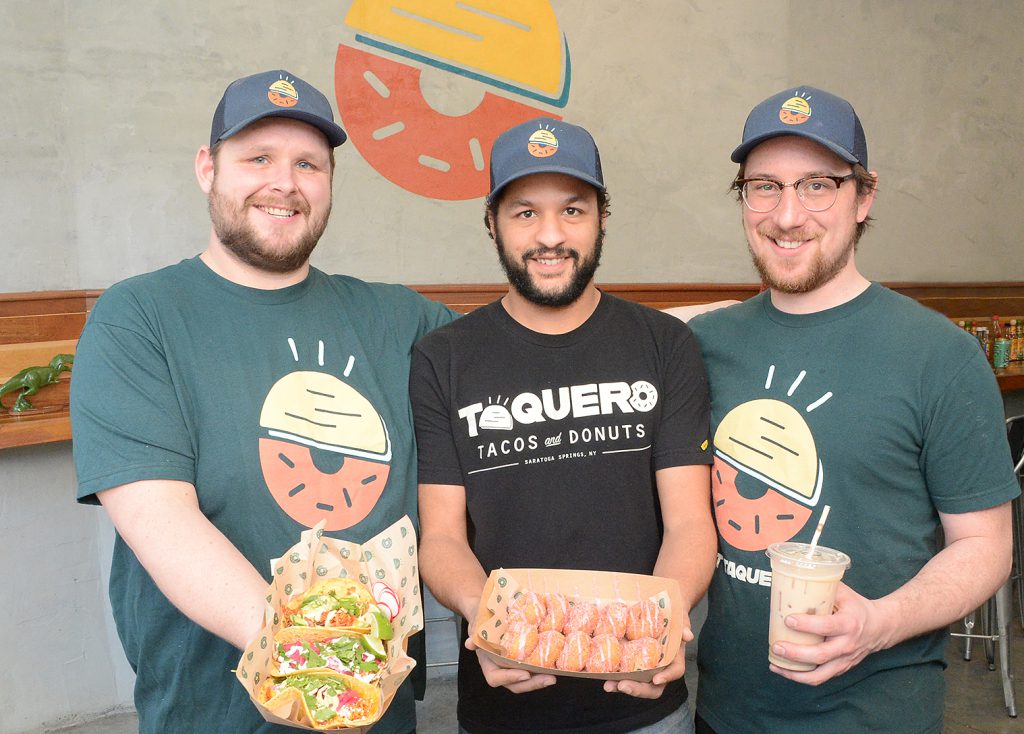 By Andrea Harwood Palmer
Hand-made tacos and made-to-order donuts can be found at a new business, Taquero, at 68 Putnam St. in Saratoga Springs.
Owners Corey Melancon, Ryan Reed and Brady Dillon collaborated with a local investor group to make their vision become reality.
The three Saratoga Springs natives have over 45 years of restaurant experience between them and met while working together in their parents' restaurants in their youth.
"It's something we always knew we wanted to do. We've had a lot of ideas in the past and were just waiting for the right location to open up. When we saw this location on Putnam Street two years ago. That's when we started to take steps to make the project happen," said Melancon.
The trio always knew they wanted to make authentic Mexican tacos.
"We enjoyed making them and felt the food fit with a lot of people's likes and dislikes," said Melancon.
"Our two favorites right now are our carnitas tacos and our Korean tacos. Both made with pork. Beyond that, we have the barbacoa tacos with braised beef, the cauliflower taco, which can be made vegan when we remove the cheese. We have a Mahi Mahi fish taco, and a braised chicken pollo taco," said Melancon.
"All of our tacos can also be ordered as a rice bowl with rice and beans, or as a salad with romaine lettuce and beans," he said.
The restaurant offers Aguas Frescas, a Mexican beverage, and a Horchata, a sweetened rice milk with condensed milk, cinnamon, nutmeg, all-spice and vanilla extract. Cucumber limeade is made fresh daily.
The partners wanted to do a fried dessert item to go along with the tacos.
"One of our partners was out and about and had a fried donut, and that got us to thinking about them. We did some research and found a machine capable of doing what we needed. The idea just took off," said Melancon.
Donut flavors include cinnamon sugar, strawberry lavender, blueberry hibiscus, maple bacon and pumpkin spice eggnog.
"We'll be adding and changing different flavors at the seasons progress," said Melancon.
All the donuts are made to order
"Business has exceeded our expectations since we've opened," said Melancon. "It's been absolutely amazing."
Over the next year, the restaurant will expand to offer delivery and catering services, he said.
The restaurant's website is www.eattaquero.com, and they can be reached at 518-886-1217.