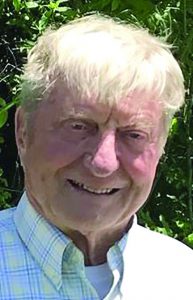 John Munter Sr. was presented with the 2020 Joseph Dalton Community Service Award at the annual dinner of the Saratoga County Chamber of Commerce on Jan. 23 at the Saratoga Springs City Center.
Munter is the third individual to receive this award following Steve "Sully" Sullivan in 2018 and Tom Roohan in 2019.
To be eligible to receive this award, nominees must have a minimum of 25 years of faithful and loyal service to the Saratoga community.
During his career, Munter has helped organizations such as Saratoga PLAN and The Wesley Community and assisted in efforts that include saving Camp Boyhaven in Milton and creating the Bog Meadow Trail in Saratoga Springs.
Munter is a 1962 graduate of Clarkson University. His career started as a rocket test engineer with GE at the Malta Test Division. In 1972, he left GE to form Munter Enterprises, a general contracting construction operation. More than four decades later, Munter Enterprises is now run by his two sons, John Jr., and Mike.
The firm specializes in design build commercial and industrial structures, as well as land development for industrial applications.
In 2019, Munter Enterprises helped the Saratoga County Chamber to construct a new 7,700-square-foot field house on the Naval Support Activity Center in Saratoga Springs, to provide a safe, secure, indoor facility for sports and recreational activities, training and drills, education and graduations.
Munter served on the board of directors of The Wesley Community and as the chair of the building and grounds committee for nearly a decade. He served four years as the vice chair of the Saratoga Builders Association.
In 2018, Munter purchased Camp Boyhaven in Milton from the Boy Scouts of America Twin Rivers Council to give the Town of Milton and the state Department of Environmental Conservation time to work out a deal to ensure the 297-acre property remains in public ownership.
The event, held at the Saratoga Springs City Center, celebrated successes of 2019 while looking ahead at what's to come in 2020, in addition to honoring community leaders.
Also at the dinner, Theresa Agresta of Allegory Studios and CultureTalk was acknowledged for her efforts as chair of the board in 2019.
Kevin Hedley of Hedley & Co. was acknowledged as the new board chairman for 2020.