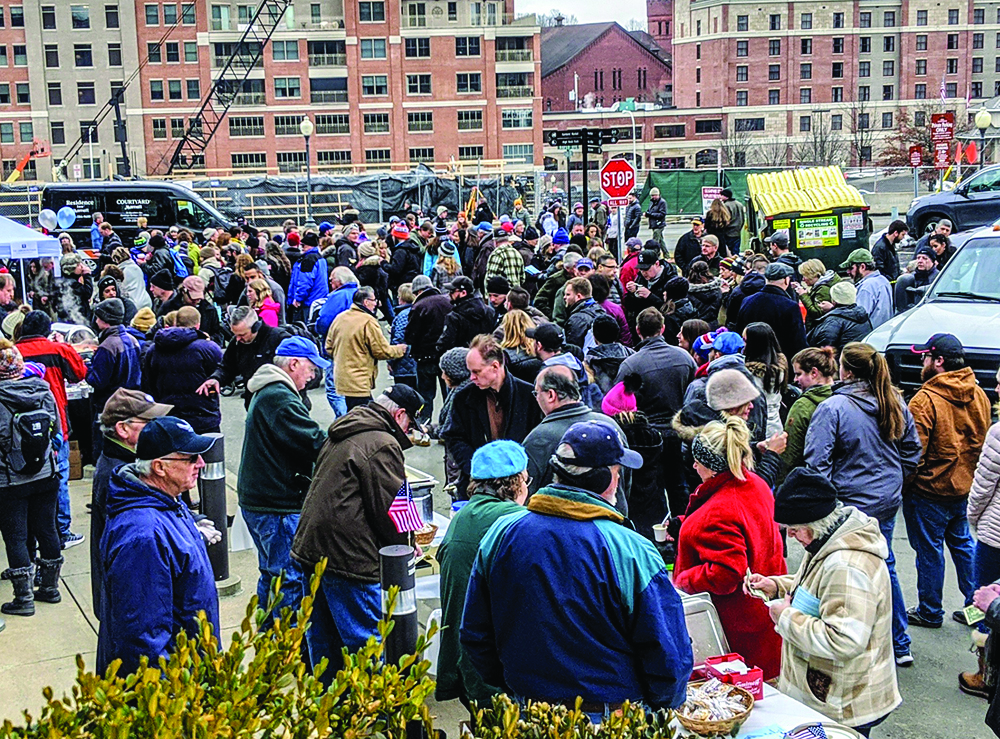 Organizers of the 22nd annual Saratoga Chowderfest held om Feb. 1 said 93 vendors participated, including 11 first-time contestants.
According to Discover Saratoga officials, some 140,704 bowls of chowder were served and over 30,000 people attended the event in downtown Saratoga Springs and at various outlying venues.
Event-goers sampled a variety of chowder from participating vendors for $1 and voted for their favorite.
Winners were chosen in 10 different categories, which was announced at the Saratoga Springs Heritage Area Visitor Center during the annual award ceremony.The 2020 Annual Chowderfest winners are as follows:
People's Choice 500 bowls or less: Ribbon Cafe, southwest shrimp corn chowder with tequila bacon; People's Choice 501-750 bowls: Bentley's Tavern, sweet harvest chorizo chowder; People's Choice 751-1,000 bowls: The Mill on Round Lake, Davey Jones seafood chowder; People's Choice 1,001-1,500 bowls: Solevo Kitchen & Social, clams casino chowder.
People's Choice 1,501- 2,000 bowls: The Wesley Community, smokey shrimp and grilled andouille sausage chowder; People's Choice 2,001-3,000 bowls: Courtyard by Marriott, smoked Buffalo chicken chowder; People's Choice 3,001-4,000 bowls: The Parting Glass, luck of the Irish seafood chowder; People's Choice 4,001-plus bowls: Dango's, chicken wing chowder; Best Dessert Chowder: Sweet Mimi's Café & Bakery, tiramisu dessert chowder; Saranac Cup: Bookmakers at the Holiday Inn, Saranac lager philly cheesesteak chowder.
Official 22nd annual Saratoga Chowderfest merchandise is still available for purchase at the Saratoga Springs Heritage Area Visitor Center at 297 Broadway.
The annual Chowderfest is made possible by sponsors: DeCrescente Distributing Company, Saranac, White Claw, Saratoga Water, Saratoga Springs City Center, D.A. Collins Company, Q 105.7, Saratoga.com, Westminster Bakers, Star Radio, Fly 92.3, 107.7 GNA, Kiss 102.3, PYX 106, B 95.5, The Saratogian, T-shirt Graphics, Adirondack Trust Co., The Post Star, Saratoga Casino Hotel, Stewart's Shops, Courtyard by Marriott & Excelsior Springs Event Center, Renewal By Andersen, Dandelion Energy, Geico The Local Office, Hodgson Russ LLP, John Ray & Sons, Bath Fitter, DePaula Mazda, T-Mobile, Lia Nissan of Saratoga, Saratoga Today, Wilton Mall, The Daily Gazette, Impressions of Saratoga, Jason's Weather and Saratoga RV Park.