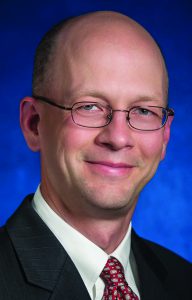 The new chairman of the Chamber of Southern Saratoga County board of directors says the organization is moving forward with initiatives to train local entrepreneurs, spur business growth, energize area events, connect local businesses, and support regional development.
Chris Meyer, an attorney with Whiteman, Osterman & Hanna, succeeds Jenifer Marten as board chairman.
"The Chamber board is committed to continuing its long history of serving our members and making sure member needs come first," said Meyer. "Our Chamber's strength remains its ability to connect members in innovative ways, and to support our community through hands on contributions."
In 2017, working with the Saratoga Community Development Foundation, the Chamber assisted the city of Mechanicville in building a new gazebo in Tallmadge Park. Chamber volunteers kept Historic Lock 19 in Vischer Ferry ready for tourists and developed a downtown map for Schuylerville businesses.
The Chamber also supported students from Ballston Spa High School, who developed a remote-controlled rudder for a miniature canal barge used to teach 4th grade students.
In 2018, the Chamber will present the Waterford Canal Festival Centennial Celebration in partnership with the Village of Waterford, marking the 100th anniversary of the modern Barge Canal.
"These projects continue to help members connect with customers while showcasing the products and services available in southern Saratoga County," said Meyer.
The Chamber also remains committed to developing strong and lasting partnerships with other area chambers, economic development entities, and businesses to improve economic opportunity throughout the region.
This year, the Chamber will continue working alongside the Saratoga County Prosperity Partnership to market northeastern Halfmoon's "Area 3" to developers, armed with a recently completed feasibility study performed by the LA Group and partially funded by National Grid.
The Chamber is working with the LA Group to administer a microenterprise grant on behalf of the Town of Ballston.
"The Chamber expects continued growth in 2018 as it continues to aggressively advocate and work for its members," said Meyer.
Meyer, of Halfmoon, has served on the Chamber board for the last several years. He is a member of the board of directors of the Clifton Park-Halfmoon Emergency Corps and served for many years on the Clifton Park Baseball board of directors.
His legal practice includes corporate and litigation matters for businesses of all sizes and he leads Whiteman, Osterman & Hanna's Privacy, Cybersecurity and Information Management practice group.
He also teaches a course in privacy law at Albany Law School.
He is joined on the board by chair-elect Matt Grattan of the University at Albany; treasurer John McCann of Teal, Becker and Chiaramonte; immediate past chair Marten of the Ballston Spa National Bank; and vice chair Anne Curcurito.
Other board members include Greg Connors, GlobalFoundries; Carmine DeCrescente III, DeCrescente Distributing Co.; Sabrina Heilmann, Proctors Theatre; Sarah Heslin, Capital District YMCA, Southern Saratoga Branch; Kristyn Kamber, Prospect Mortgage; Alexander Kutikov, Red Mark Realty LLC; Michael Norelli, GE Power; Anthony Panza, Panza's Restaurant and Caterers; Wendy Rosher, Ellis Medicine; Andrew Sheridan, Cascades Tissue Group; Carl Stewart, Turner Construction; Lauren Valentine, Sandler Training; Brian White, Saratoga National Bank; and Dr. Elizabeth Wood, Shenendehowa Central School District.