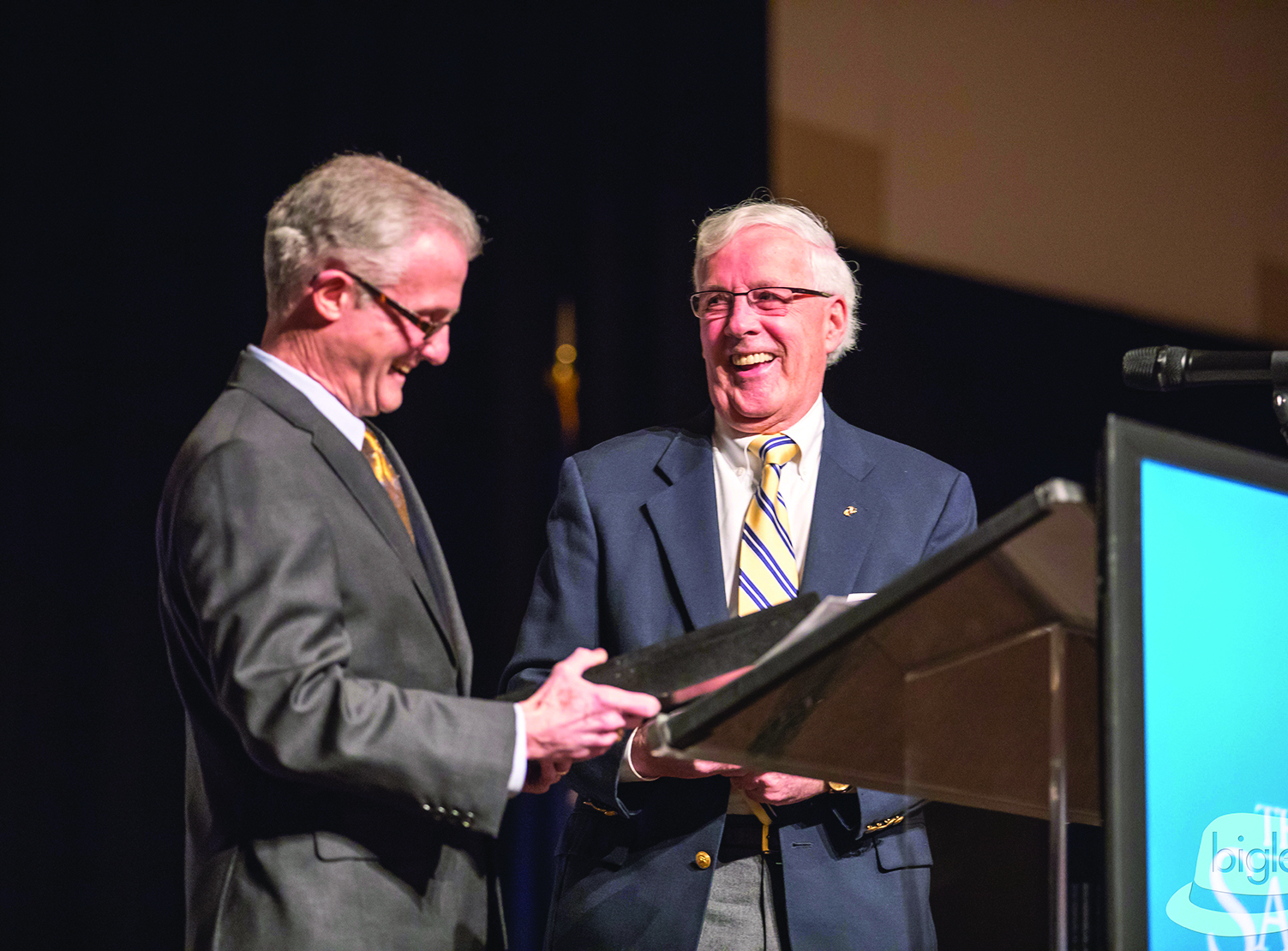 The Saratoga County Chamber of Commerce celebrated its 100th anniversary in January  by announcing the creation of the Joseph Dalton Community Service Award and by presenting this first-ever award to Steve "Sully" Sullivan, the owner of the Olde Bryan Inn and Longfellows Inn & Conference Center.
The event was attended by 950 people.
Joe Dalton was the president of the Chamber for 40-years, from 1970 to 2010. The Chamber, during Dalton's tenure, was instrumental in creating and implementing the City of Saratoga Springs' Plan of Action that has revitalized downtown Saratoga Springs, officials said.
Dalton worked closely with Ed Lewi Associates and NYRA to rebuild interest and hike attendance numbers at Saratoga Race Course. The Chamber also played key roles in the creation of the Saratoga Economic Development Corp., the Luther Forest Tech Park and the Saratoga Convention and Tourism Bureau. The Chamber also offered a free weekend respite to first-responders and their families after 9/11.
Sullivan first came to Saratoga Springs from Boston in 1974 to attend Skidmore College. To get himself through college, he waited tables at Lillian's restaurant, tended bar at Harold J's, and washed dishes at other restaurants. After college during a visit back to the city, he was hired to wait tables at the Olde Bryan Inn, rising to partner in 1981.
He opened Longfellows, on Union Avenue, near Northway Exit 14, in 1996.
According to the Chamber, for 30 years, Sullivan, his staff and a team of volunteers has prepared and delivered Thanksgiving meals—nearly 1,000 in 2017 alone—to people gathering at the First Presbyterian Church as well as to shut-ins across the area. He has been personally involved with the Double H Hole in the Woods Camp for children fighting life threatening health challenges.
Sullivan has long been an advocate for workforce housing and was part of a steering committee that built a 36-unit building in Saratoga Springs, while also buying apartments himself in Schuylerville, to help his employees find affordable places to live.
He was a co-chair of the Capital Campaign to fund the building of Saratoga Hospital's Community Health Center to provide health care to those who are under insured or without insurance. He provides free meals twice a week to Code Blue and every Monday night to local hospice patients.
He is a mentor to students at Skidmore College as well as the Saratoga Springs Sponsor a Scholar program.
Also at the dinner, Brian Straughter, president of the Turf Hotels, was recognized as the new chairman of the board of directors of the Saratoga County Chamber of Commerce for 2018.
The Chamber was founded in 1918 and organized its first dinner on June 7 of that year.
Also honored was David Collins, of D.A. Collins Companies, who served as the chairman in 2017 and will continue to serve on the Executive Board as the immediate past chairman.
The chair-elect for 2018 is Theresa Agresta of Allegory Studios. Other officers for the year include Kevin Hedley of Hedley & Co., vice chairman; and Jessica Petraccione, of First National Bank of Scotia, secretary.
The members elected to serve three-year board terms running through Dec. 31, 2020 include: Marianne Barker of Impressions of Saratoga, David Cummings of The Run at Saratoga, David DeMarco of Saratoga National Bank, Dr. Adam Favro of Turning Point Chiropractic, Art Johnson of the Saratoga County Prosperity Partnership and the town of Wilton, Dan Wager of State Farm Insurance, Charles Wait Jr. of the Adirondack Trust Co. and Kim Ireland of National Grid.
Three members were appointed to serve a one-year term board. They are Tara Pleat of Wilcenski & Pleat PLLC, Susan Halstead of Family Vision Care Center and John Rogan of Saratoga Eagle.