Horse Statues in the Saratoga Area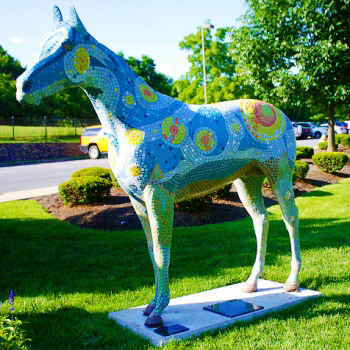 Have you seen any beautifully decorated horses in and around Saratoga Springs lately? More than 30 fiberglass beauties were commissioned in 2007, designed and decorated by artists throughout the northeast, displayed throughout town, and eventually auctioned off.
Today, over a dozen of the horses are still residing in the Saratoga Springs area, and many can be viewed and enjoyed by the public. Below, you'll find a list of the remaining horse statues, along with each one's most recent location, that can serve as a guide if you wish to visit them for yourself!
Photo: Starry Night, taken by Danielle Berry
Horse Power II - designed by George Frayne, sponsored by Anthony R. Ianniello, Esq.
Automobile Museum in Spa State Park
110 Avenue of the Pines, Saratoga Springs, NY 12866
Ode to The Blue Karner Butterfly - designed by Brittanie Carlson, sponsored by Gary & Nancy DiCresce
National Museum of Dance
99 South Broadway, Saratoga Springs, NY 12866
Heavenly Blue - designed by Hannelore Dean, sponsored by Ron & Michelle Riggi
National Museum of Dance
99 South Broadway, Saratoga Springs, NY 12866
Remembrance - designed by Linda B. Buerkley, sponsored by The Inn At Saratoga
The Inn At Saratoga
231 Broadway, Saratoga Springs, NY 12866
The History of Horses - designed by Robert Ratigan, Jr., sponsored by the Saratoga Harness Horsepersons Assoc.
The Visitor's Center
297 Broadway, Saratoga Springs, NY 12866
Equus Dreaming - designed by Kathleen McGowan, sponsored by Empire State College
Empire State College
1 Union Avenue, Saratoga Springs, NY 12866
Foundation - designed by Kelsey Harro, sponsored by Bast Hatfield, Inc.
The offices at 31 Church Street
31 Church Street, Saratoga Springs, NY 12866
The Saratoga Horse - designed by Margaret Crenson, sponsored by The Saratoga Hotel
Inside the Saratoga City Center
522 Broadway, Saratoga Springs, NY 12866
Magic - designed by Jenny McShan, sponsored by Pepsi Bottling Group
Saratoga Springs Heritage Area Visitor Center
297 Broadway, Saratoga Springs, NY 12866
Snapshot - designed by Terri J. Garofalo, sponsored by the Olde Bryan Inn
Olde Bryan Inn
123 Maple Avenue, Saratoga Springs, NY 12866
Polo - designed by Frankie Flores, sponsored by the Saratoga Polo Association
Saratoga Polo Club
2 Bloomfield Rd, Greenfield Center, NY 12833
Starry Night - designed by Geri Bowden, sponsored by the Courtyard by Mariott Saratoga Springs
Courtyard by Mariott Saratoga Springs
11 Excelsior Avenue, Saratoga Springs, NY 12866
In The Beginning - designed by John A. Crawford, sponsored by the Saratoga National Golf Club
Saratoga National Golf Club
458 Union Avenue, Saratoga Springs, NY 12866
Music in Motion - designed by Linda Beggars, sponsored by Longfellows Restaurant & Hotel
500 Union Avenue, Saratoga Springs, NY 12866
Nocturnal Landscape - designed by Heather L. Martin, sponsored by the Alcove Marina & Pub
Alcove Marina & Pub
886 Rt. 4., Schuylerville, NY 12871