The Saratoga Winery & Tasting Room
Discover Your New Favorite Wine...and Beer!
462 Route 29 West
Saratoga Springs
,
NY
12866
Sit back, relax and experience handcrafted wine just 4 miles from downtown Saratoga! Live Music and Wood Fired Pizza Every Weekend. Our outside deck, patio and lawn is perfect for a summer afternoon with friends.
Come enjoy a wide variety of our exceptional wines and local craft beers only 4 miles west of downtown Saratoga Springs, New York. Open year-round with special winery events held throughout the year.
SUMMER WEEKLY EVENTS:
Street Food Tuesdays: Every Tuesday during track season! Enjoy live music & happy hour from 3-6pm. Street Food Menu available from 2-7pm.
Trivia Thurdays: Trivia at 7pm, Happy Hour and Wood Fired Pizza from 5-9pm.
Classic Friday Night Out: Live Music & Wood Fired Pizza from 5-9pm.
Saturdays: Live Music from 3-6pm and Wood Fired Pizza 2-7pm.
Sundays: Live Music from 3-6pm, Wood Fired Pizza 2-7pm.
CURRENT WINE LIST:
White Wines: Whitney's White, Saratoga White, Semi Dry Riesling, Dry Riesling, Chardonnay
Reds: Rustic Red, Torched Cherry Bomb, Saratoga Red, Cabernet Sauvignon, Cabernet Franc, Pinot Noir
All Natural Melomel Wines: Melomel, our signature style of winemaking, is all natural wine made from 12% local honey and 88% grapes. Our Melomels have no added sulfites or preservatives and ferment in Kentucky bourbon barrels for up to three years before making it to your glass. The unique fermentation process leaves a smooth, sweet, port-like flavor with a hint of bourbon. Melomel will change the way you think about wine. You don't want to leave the winery without trying one!
Our Current Melomel Wines: Hillbilly Mountain Mash, Bloodroot, Blackberry, Spitfire and Blackberry Reserve.
BEERS ON TAP: Adirondack Brewery, Olde Saratoga Brewery, Druther's Brewery, Brown's Brewery, Saranac Brewery, Two Roads Brewery.
Experience a Wine Tasting with us! Wine tastings & Beer Tastings are available during all business hours, no reservation required! We also offer Cheese Boards, Cheese Pairings and Chocolate Pairings!
Like us on Facebook! Don't forget to like us on Facebook and follow us on Twitter to be the first to know about all of our events! Visit www.TheSaratogaWinery.com for details on our live music and other events.
Let us host your next event! Small and large gatherings and business meetings, bachelorette parties, bridal showers, weddings, reunions, retirement parties, birthday parties, fundraisers and more! Contact Stephanie@TheSaratogaWinery.com or 518-584-WINE(9463).
CURRENT HOURS:
*We will be closed on Saturday, August 27th for a Wedding.
Monday, Tuesday & Wednesday: 11am-7pm
Thursday: 11am-9pm
Friday: 11am-9pm
Saturday: 11am-7pm
Sunday: 12pm-7pm
The Saratoga Winery is located just under 4 miles West of Broadway on Route 29 in Saratoga Springs. Turn at the Starbucks located on Broadway in Saratoga Springs onto Washington Street. Continue to follow Washington Street for just under 4 miles. We are located on the left hand side.
***Please be advised that most GPS' have trouble picking up our address, or will bring you to the wrong location. Please do not hesitate to call us at 518-584-WINE or visit our website www.thesaratogawinery.com for very easy and accurate directions.***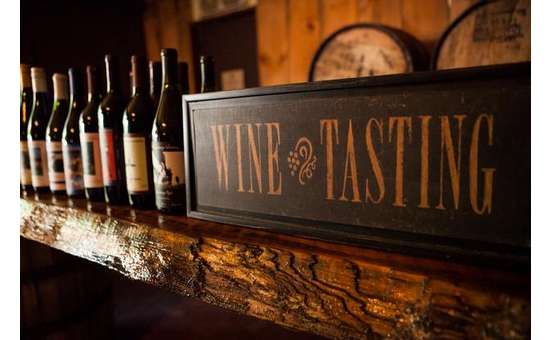 Click on the thumbnail images to see the larger version








Print More Information
Coupons & Specials
The Saratoga Winery & Tasting Room Coupons & Specials
1/2 off a Wine Tasting for Two with Cheeseboard and Keepsake Wine Glasses!
Take advantage of this online exclusive coupon for 1/2 off a Wine Tasting for Two with a Cheeseboard and Keepsake Wine Glasses! Only $13.50 plus tax! (A $27 value!)
Enjoy our rustic atmosphere and a selection of over 15 handcrafted wines. Our cheeseboard for two includes three different types of cheese and assorted crackers. Keepsake wine glasses are etched with our winery logo.
*Can not combine with any other coupon or discount!
Expires: 8/31/2016

(Valid until August 31st 2016. Cannot be combined with any other coupon or discounts. $13.50 price does not include tax on applicable items. Limit one per every two customers.)
Directions & Map
Always get confirmation of the business location.