Win A Share Of Blue Streak Racing's Holiday Claiming Partnership!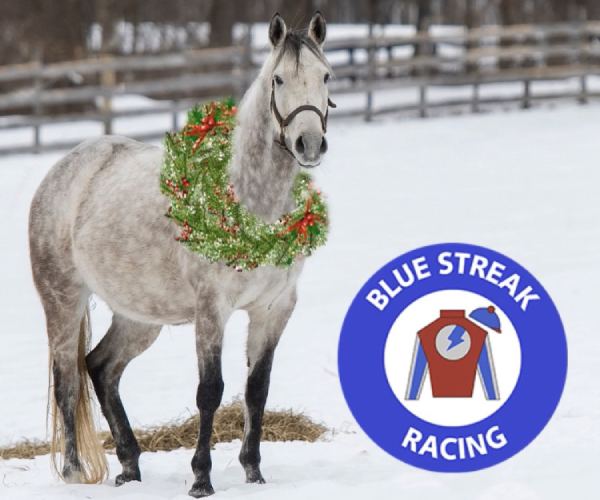 Blue Streak Racing, LLC is a thouroughbred racing partnership whose goal is to be successful by utilizing small partnerships to provide a fun and rewarding experience for their partners.
This partnership (valued at approximately $500) will allow you the opportunity to pull back the curtain and learn, as well as participate in, all facets of racing; from the horse selection process, to visiting the horse at the farm, during training, throughout the race preparation and selection process, as well as the most important part: race day!
If you win, you'll be a part owner of a racehorse running this winter on the NYRA circuit. As such, you'll be able to root your horse on to victory either in-person or via America's Day at the Races on Fox Sports, and even visit the horse for a morning of training and a barn visit. And best of all, you'll be entitled to share in any purse winnings!
One lucky winner will be randomly selected on December 1st, so be sure to enter once per day to improve your chances of winning!
Disclaimer:
The provider of this sweepstakes is Blue Streak Racing.
Sweepstakes ends at midnight on November 30th, 2022.
One winner will be randomly selected on December 1st, 2022.
Prize is valued at approximately $500.
Limit 1 entry per person per day (you may enter again after 24 hours).
Winners may not resell prize.
Keep up with the latest happenings on Saratoga.com.
Click below to "Like" us on Facebook
Show your support for the giveaway sponsors by following them on Facebook:
Click below to "Like" Blue Streak Racing on Facebook