Enter The Annual Saratoga.com Holiday Extravaganza Giveaway!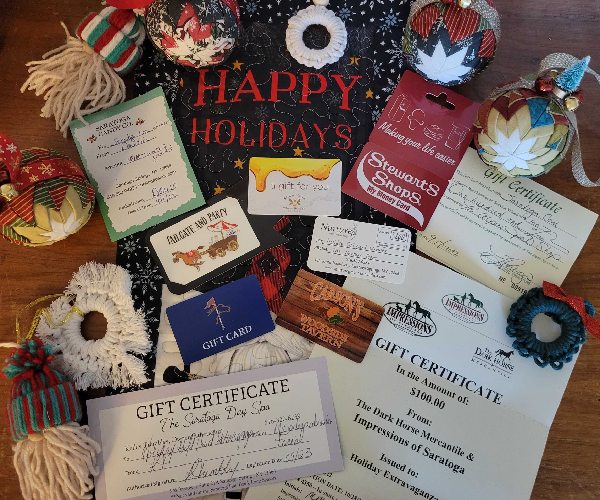 The holidays are back, and we here at Saratoga.com are looking forward to another opportunity to spread the cheer! Gift giving can be the most fun and rewarding part of the season, but finding the right gifts can end up costing you serious time and money. Wouldn't it be great if you could still have all the fun of the holidays without the expense?
In the spirit of the season, Saratoga.com has teamed up with some of the best shops, restaurants, and other businesses in the Saratoga area to bring you the ultimate holiday prize: at least $400 worth of gift cards/certificates! Thanks to the generosity of your local stores, we have acquired 18 separate $100 gift certificates that will ensure you are stocked up and ready for the season. This means we will have 2 winners that will recieve $400 in gift certificates, and 2 'Grand Prize' winners who will recieve $500 in gift certificates. Give the gift certificates as gifts or keep them for yourself - the choice is yours!
Enter your info below and you could be one of our four winners receiving at least $400 in gift cards! Winners will be randomly selected on Wednesday, December 7th. Increase your chances of winning by entering once per day.
The holiday giveaway includes gift certificates from the following Saratoga businesses:
Alpine Sport Shop
Stewart's Shops
Love Is On Lake George
Disclaimer:
The provider of this sweepstakes is Saratoga.com & local businesses.
Sweepstakes ends at midnight on Tuesday, December 6th.
Limit 1 entry per person per day (you may enter again after 24 hours).
4 winners will be randomly selected on Wednesday, December 7th.
Due to the time sensitivity of this prize, winners must claim prize immediately upon contact (via phone or email on the morning of December 7th).
Winners may not resell prizes. Prizes have no cash value.
Keep up with the latest happenings on Saratoga.com.
Click below to "Like" us on Facebook
Show your support for the giveaway sponsors by following them on Facebook: