Saratoga Home Decorating Tips: Start With Neutral Colors
Decorating your home in Saratoga? Choose neutral colors as a base to easily change the future look of any room! Do you like to change the look of your rooms frequently? Or wish you could? Welcome change and vitality without the expense of frequent remodeling -- start with neutral colors!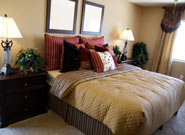 Paint the walls and buy your furniture in neutrals, which will coordinate with a wide range of colors. Add vibrant colors with your fabrics, accent pillows, window treatments, accessories, throw rugs, artwork, lamps, vases and other accessories.
Change out accents periodically for a completely different color scheme, and totally transform your room without having to remodel! Saratoga home decorating is easy when you start with neutral colors. Choosing neutrals is a great way to ensure versatility in any room.
And if you think neutral means beige, think again! The term 'neutral' refers to a wide range of colors, including traditional grays and whites, and also dusty blues, muted reds, sandy browns, soft yellows, subdued greens and many other quiet earth tones. These colors can easily be mixed with most other colors without overwhelming the eye.
Neutral color palettes can be found at most paint stores, carpet retailers and furniture stores in the Saratoga Springs area to help you get started. Then have fun with lively colors throughout the rest of your décor, and create a new look from year to year - or even season to season!
Looking for more Saratoga home decorating tips and ideas? Discover helpful articles in our section dedicated to Saratoga home and garden tips!