Day Trip To Vermont
Known for its picturesque landscapes complete with fall foliage, farms, covered bridges, and ski resorts, Vermont is a gorgeous place to visit any time of year – and it isn't a far drive from Saratoga! Read on for some of our favorite Vermont hotspots, from great hiking trails to historic sites, and more.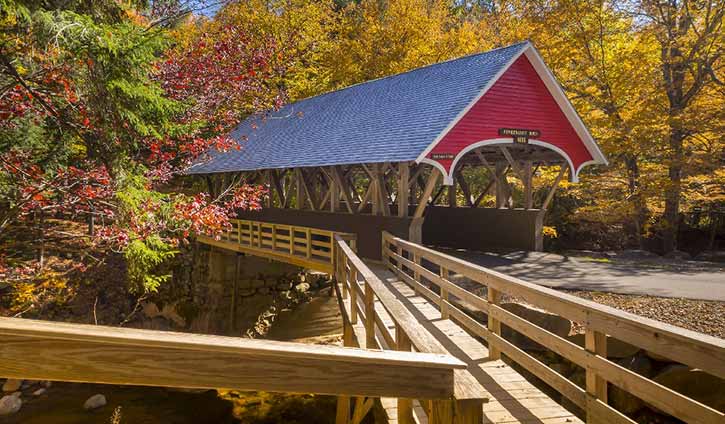 Outdoor Adventures & Historic Sites
Vermont is home to Lake Champlain, the sixth-largest body of fresh water in the country, as well as the Green Mountains, which span from the Massachusetts border in the south to the Quebec border in the north. Much of the mountain range can be easily accessed by road or trail, offering stunning landscapes and mountain views. We recommend stopping for a stroll at the Equinox Preserve or Lye Brook Falls in Manchester, just over an hour's drive from Saratoga.
About an hour away from Spa City in Bennington, you'll find the 306-foot-tall Bennington Battle Monument. This impressive site commemorates the Battle of Bennington, which took place on August 16, 1777, and is now considered to be the turning point of the American Revolutionary War.
Come For The Foliage
If you're taking the drive during the fall, make sure you have your camera ready: fall foliage is one of Vermont's main attractions! Millions of acres of trees turn amazing shades of red, orange, and gold every year.
The sight was incredible enough to inspire poet Robert Frost, who spent each summer and fall teaching in Ripton. What better way to enjoy Frost's famous "yellow wood" than with a hike? If you're looking to explore the great outdoors, you won't want to miss out on trails at the Killington Adventure Center, about 1 hour and 47 minutes from Saratoga Springs. 15 miles of trails include easy, moderate, and more difficult climbs, making it a great option for families visiting Vermont.
Visit In Winter
Traveling in the winter? Killington Ski Resort is one of the most popular in the Northeast, with over 200 trails and 1,977 skiable acres across its two mountains: Killington and Pico.
Don't Miss Maple Season
With the end of winter comes maple sugar season. Did you know that Vermont is the largest producer of maple syrup in the United States? Not only will you find jugs of delicious syrup in abundance throughout the state – the perfect topper for your pancakes and oatmeal – but maple candy, maple tea, maple ice cream, and other sweet, mapley treats.
With quiet country roads, incredible history, and adventure at every turn, you won't regret taking a drive to beautiful Vermont! Whether you visit in winter, spring, summer, or fall, there's always something new to discover.