Saratoga Home Decorating Tips: Redecorating a Room
Redecorating a room in your home?
Before you head to your favorite paint and wallpaper supplier or visit every furniture store in the Capital District, check out these Saratoga home decorating tips to discover what your room needs!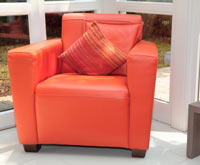 Does the Room Have a Focal Point?
Every room should have a focal point, no matter the size or style of the space. Some rooms have a built-in focal point, such as a fireplace. If this is the case, you'll want to accentuate it by arranging the furniture so that it centers around the fireplace, drawing your eye directly to it. Or if you have an amazing view outside, open the blinds and draw back the curtains to showcase it. If your room doesn't have a feature that stands out, create one. You can create focal points out of the components of the room itself by simply choosing dramatic furniture, lighting fixtures or artwork.
Tip: to add interest to your room, you need to draw the eye to a focal point.
Is the Room Too Busy?
Cluttered spaces can overwhelm, pulling the eye in many different directions. Clutter doesn't necessarily mean piles of papers and stacks of books; orderly clutter is also a problem. Too many colors, textures, fabric patterns, lights and so on can make a room look very busy and unattractive. In general, try to limit your palette to five colors or less and coordinate patterns and textures for cohesive home decor.
Tip: each room should be full of stylish pieces, but not overfull.
Is the Room Too Bare?
In contrast to being overcrowded or "too busy," if your space does not have enough in it to engage and invite the eye, it can feel barren and empty. Empty spaces can feel a little cold and unwelcoming because they look unfinished. Even a design minimalist avoids going to extremes with scarcity. Redecorating a room that's too bare is a time to get creative. Add some furniture, artwork, table lamps, throw pillows and other furnishings. Above all, have fun with your home decorating!
Tip: have enough in your room to make it look finished, welcoming and compelling.
Does the Room Have Proper Lighting?
Just because a room is well lit doesn't necessarily mean it's properly lit. Lighting should be used as a design element throughout your room in addition to being an important factor in its overall functionality. The absence of proper lighting can make a potentially striking room appear drab and boring. By just adding some accent lighting, for example, you can really increase your room's dramatic appeal. See our article on the importance of proper lighting for more detailed information.
Tip: lighting is important for adding visual interest and functionality to each room.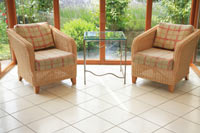 Does the Room Match Your Personality?
Grandma's sofa might have been a great hand-me-down, but does it resonate with you and your design tastes? Does that mauve paint echo the look of the other rooms in your home? If your space doesn't match your design personality, simply rework it to reflect more of who you are. Look at the other rooms in your home or browse through catalogs and online photos for inspiration.
Tip: each room in your home should look like it belongs with all the other rooms in your house.
Redecorating a room is an adventure! Follow these home decorating tips for a beautiful, put-together home.