Saratoga, CA - California City Named After Us!
Welcome to Saratoga... California?
Saratoga CA was named after our own Saratoga Springs New York when rich mineral springs were discovered there.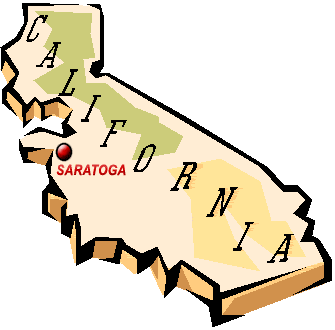 SARATOGA CA - The historic and lively city of Saratoga Springs, New York has long been synonymous with the exclusive mineral springs of the same name, along with world-class horse racing and a historic and pivotal Revolutionary War battle. The legendary healthful and medicinal attributes of the waters of Saratoga have been famous for over 200 years and are what gave the town it's unique name, so… how could there possibly be another one like it?
Meet Saratoga, California! This Saratoga also has a long history dating back to 1848 when it was originally named Tollgate. With the discovery of springs sharing a mineral content similar to that of the already famous Saratoga Springs, New York, the city was renamed Saratoga in 1865 after the original east coast city of the same name!
Today, Saratoga CA is a community of 30,000, with a historic downtown district filled with unique shops and restaurants. Just as Saratoga Springs NY has the Saratoga Performing Arts Center, they host similar concerts and events at a local venue, and also enjoy a magnificent Japanese-style garden operated by the city (Yaddo, anyone?) But wait, there's more... While enjoying the quaint downtown, you can stroll through Congress Springs Park or take a walking tour of the historical district. Sound familiar?
You may be surprised to learn that Saratoga CA isn't the only Spa City copycat. In fact, many different destinations throughout the years have modeled (and named) themselves after us, hoping for the same Saratoga success and popularity that we have seen. But none, perhaps, more obvious than the Saratoga Springs Resort at Disney! This Orlando Florida resort has truly created a "home away from home" for Saratoga New York residents. Read more about the WDW Resort & Spa.
We may well ask ourselves, "What's in a name?" While these lovely communities may have much to offer their visitors, the healthful benefits of the mineral baths continue to draw visitors and tourists to the Saratoga area. The original Saratoga still enjoys prime popularity for its luxurious mineral baths, historic battlefields, and high-spirited horse racing that it is world-famous for.
Learn More Fun Facts About Saratoga!
Visit the City of Saratoga California Website
Want to stay up to date on all the happenings in the NY Spa City? Subscribe to our feed!